Magick Potion Lotion
$

128.00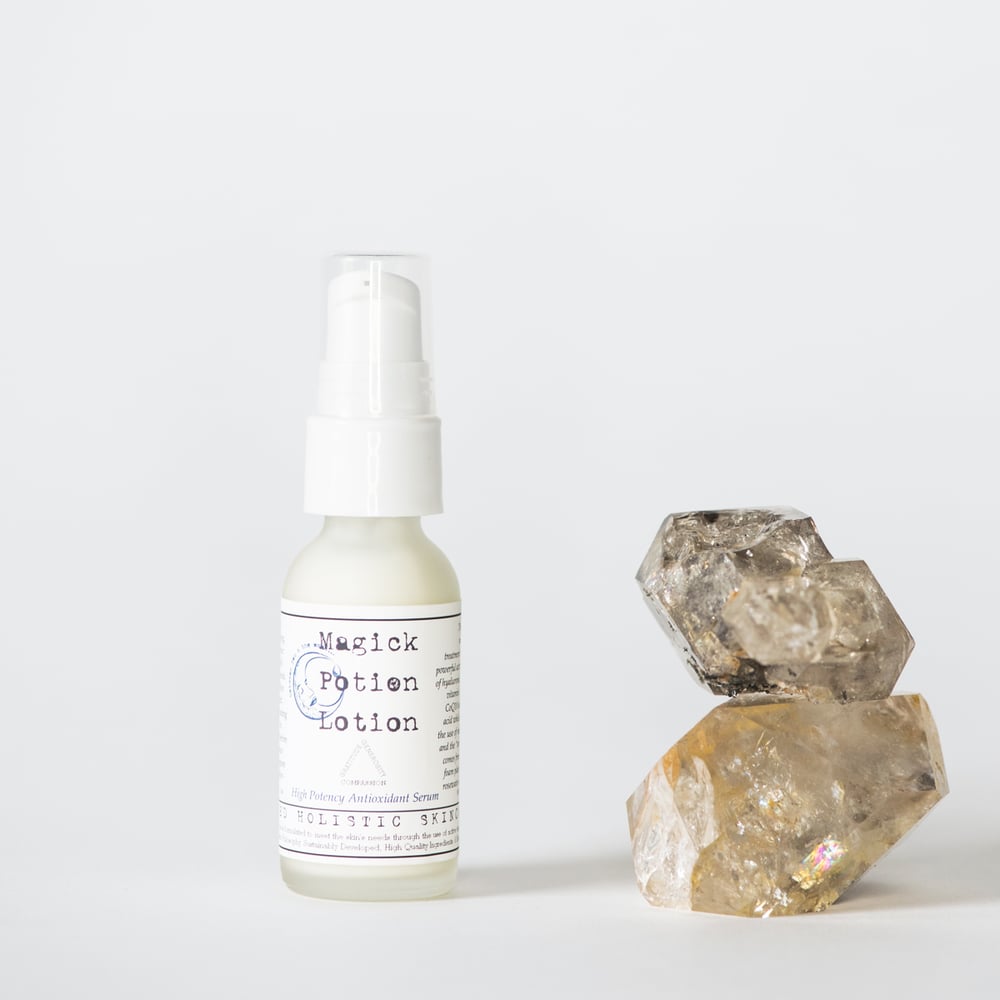 {High Potency Anti-oxidant Serum}
DECEMBER SPECIAL: For the month of December 2018 - Buy one get one free. Place 2 in your cart and enter code: MPL2018 at check-out.
This unique and naturally-based treatment is loaded with powerful active ingredients of hyaluronic acid, DMAE, vitamin A, B, C and E, CoQ10 and alpha lipoic acid while incorporating the use of multi-fruit acids and the "wonder-oil" that comes from the meadowfoam plant, all in a pure rosewater distillate base. Prepare for profoundly transformative results!
How to Use
When you want to get a boost: Add 1-2 pumps of Magick Potion Lotion to your finger tips and apply all over your face and neck. Mist with Hydrosol and massage in upward circular motions, creating a light "foam". Allow to set for a few minutes and it will soak in completely before make-up (if you even need it!).
Frequency
This serum works wonders when used appropriately. Twice a week is good. Use with discretion – do not allow your skin to become too reliant on this serum. Give yourself a break from any active product to allow your skin some equilibrium time. We recommend using this product when you need a boost. All good things in moderation.
About the "Advanced" Ingredients
Hyaluronic Acid was "discovered" by Karl Meyer in 1934 and since then, has been successfully used in personal care and wound healing. It is a substance that is naturally found in the extra cellular matrix of human tissue (like elastin in collagen). When topically applied, hyaluronic acid forms an air permeable layer that can penetrate the dermis (the next layer down from the epidermis), thus boosting the elasticity and hydration of the skin. The protective breathable barrier on the skin locks in moisture and has a unique ability to hold more than 1000 ml of water per gram of hyaluronic acid, which gives the skin a more youthful appearance (temporarily). Amazingly, hyaluronic acid adjusts its moisture absorption based on the relative humidity in the air meaning that it adjusts to the skin's need for a moisturizing effect depending on the season and climate of an area.
Niacinamide is the biologically active form of niacin -Vitamin B3. It is known to increase the rate of skin cellular turnover and increases moisture barrier repair. Studies have shown it to be useful in increasing synthesis of collagen and lipids, inhibiting the transfer of melanosomes and decreasing inflammation.
Pro-Vitamin B5 (dl-panthenol) is a popular humectant known for it's ability to counteract environmental and age-related dryness as well as increase the moisture retention capacity of the skin. This allows dry skin to stay supple and elastic longer. It is anti-inflammatory and stimulates skin regeneration. Together, niacinamide and panthenol improve the condition of the skin's moisture barrier.
As mentioned (over and over again) by Dr. Nicholas Perricone, DMAE, Alpha Lipoic, Ester C and Vitamin E are rock-n-roll for your skin. According to Dr. Perricone, products containing DMAE, alpha lipoic acid, vitamin C ester, alpha hydroxy acids, vitamin E and retinol (vitamin A) can create amazing results in the appearance of aging skin. DMAE is found in foods and can create an almost immediate improvement in the firmness and tone of the skin. Vitamin C ester is well known and long documented antioxidant that protects the surface of the skin from free radicals that can damage the skin. Alpha lipoic acid is the most powerful of antioxidants. It is able to benefit both the water and lipid portions of the skin. It is said to give the skin a "youthful and glowing appearance." Retinol palmitate (vitamin A) nourishes the skin and assists in the "rejuvenation process that maintains a more youthful appearance."
Alpha hydroxy acids gently remove dead skin and provide an added antioxidant. This stuff is great for immediate results, but take note, when over-used topically, you may just end up looking like a pumpkin before the clock strikes midnight.