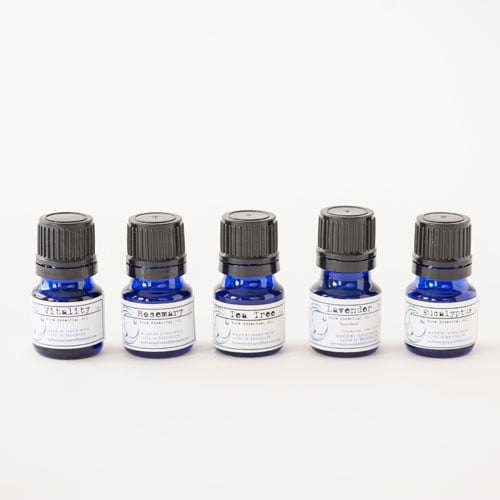 Geranium Essential Oil (5ml)
Wonderful, healing, heady aroma.
Mix 1p distilled vinegar and 1 p distilled water in a medium to large size spray bottle. Add 3 drops geranium oil. Use this to wash the windows. Dry them with old newsprint. (also useful if the cat pees in the sofa cover 10 minutes before guests are expected.)
Rosemary Essential Oil (5 ml)
So many uses, so little time.
Make a hot oil hair treatment: Fill a mug with hot water. Place a shot-glass inside filled with Massage in a Bottle and 3 drops of rosemary oil. Test to make sure that it is not too hot before you apply the mixture to your scalp and work it through to the ends. Wrap an old towel around your hair and relax for an hour (or even overnight!) before rinsing out and following with a hair toner of ½ apple cider vinegar and ½ chamomile tea (or plain water).
Lavender Essential Oil (5 ml)
Lavender- Keep a mix of 2 oz distilled water and 13 drops lavender oil by your spice rack in case of light burns. Spray directly on the burn immediately. (In case of a more severe burn, seek medical attention, please!)
Clean & Green Essentials - These super strong anti-microbial, anti-fungal, and anti-germ herbs work wonderfully to safely disinfect and cleanse bathrooms, kitchens and cleanse all over the home. Basil, eucalyptus, ginger, lavender, lemon, orange, juniper, rosemary, cedar, and teatree.
Vitality Essential Oil Blend
This warm and sensuous blend has quite a cult following in our Brooklyn neighborhood. Relaxing to the nervous system, Vitality opens blocked passages and then allows deeper concentration. It can be used in shoulder massage to maintain energy while working on all night projects, in a essential oil burner during an all-day session in the recording studio, and mixed with Bumble Balm ready to be rubbed behind your ear before an important meeting. Oh yeah…when the work is done, it allows you to relax and concentrate on…other important things.
All essential oils are intense distillations that procure the smallest, most concentrated "essence" of an herb. These essences are so precious that it can take up to 1 lb of plant material to make 1 drop of essential oil, and should be used with respect & discretion. By nature, they have excellent anti-bacterial and preservative qualities, though any concoction that includes aloe or water will still be unstable & have a short shelf life. Therefore, it is best to make small batches using steam-distilled water, store in a well-labeled airtight container (preferably in a dark, cool place) & used within a couple of months.