Nourish & Replenish Oil
$

33.00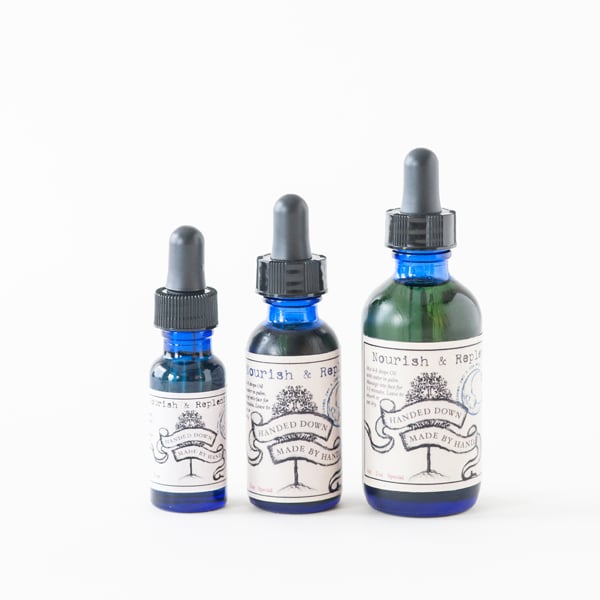 This highly enjoyable combination of oils work with the natural processes of your skin's physiology to provide nourishment for new, healthy cell growth while replenishing the lost lipids due to environmental factors and daily living. When combined with one of our specialized Mineral Mists, it is a lovely way of creating a preservative-free "customized in the moment" (especially for you, by you!) moisturizer that contributes greatly towards meeting many of the skin's basic needs.
Nourish and Replenish is formulated for anyone to use as part of their Moisture Duo both and morning and night in their skin care rituals. We don't divide skin types into dry, oily or combination--instead, we look at skin function. Nourish & Replenish Oil is your daily fuel that keeps everything functioning optimally.
Characteristics:
• Balanced
• Consistent (the skin thrives on consistency)
• Provides the skin with the lipophilic elements it needs to function well
Great for those who:
• Need a daily source of moisture that helps to meet their skin's basic needs
• Want to let go of controlling methods and allow their skin to find equanimity
• Have tried everything else and still want more
And may be looking for:
• A great moisturizer
• Real results with no added emulsifiers, binders or preservatives
• Economy: because you are counting out drops, every drop counts (.5 oz will typically last up to 2 months with regular use)
How to Use:
• After cleansing, 3-6 drops of Nourish and Replenish oil into your palm. Mist 4-8 pumps of your Mineral Mist (choose your type) directly into the oil-instantly emulsifying it. Gently massage into your skin using gentle strokes.
Nourish and Replenish Oil is made from a nourishing blend of olive squalene potentiated with quartz, herbally-infused plant oils and cold-pressed pure botanical seed oils. It is cold-infused for 6 weeks and then hand-mixed and bottled in small batches with a focus on intention (gratitude, compassion and generosity) and the flow of energy. With <1/100% amazing essential oils, the messages from the EO's are subtle, not controlling.
Formulated over 3 years, this has been the same foundational oil that we have offered since 2008. It is still a customer favorite.
Further resources: